Mortgage Minute: Taking Advantage of Mortgage Rates
Date Posted: July 14, 2020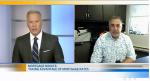 The pandemic that ravaged Canada's economy and caused widespread unemployment has also caused interest rates to fall to near historic lows. Those historic lows are still available among many lenders.
Currently, there are a few lenders who have a five-year fixed rate at 1.99 percent, which is the lowest it has been in Canadian history. Variable interest rates are comparable as well. And depending on your situation these low interest rates could mean huge savings.
Whether you are contemplating purchasing a home, looking to refinance your mortgage to consolidate debt, or simply switch your mortgage between lenders, now is the time to consider your options and talk to your mortgage broker today!
Talk to your Mortgage Broker today and see how this program can help you buy your home.
To view Mortgage Minute with Frank Napolitano, click here:
Contact your Mortgage Broker today for trusted advice