Bank of Canada Hints at no Interest Rates Hikes until 2023
Date Posted: July 20, 2020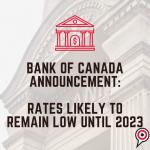 The recent Bank of Canada announcement that their overnight lending rate was remaining unchanged at 0.25% was less of an announcement than the Bank of Canada Governor Tiff Macklem stating that 'interest rates are very low and they are going to be there for a long time'.
This announcement was met with excitement as many observers believe that interest rates will remain near their historic lows until at least 2023, as a result of Covid-19 and its impact on world markets.
Prospective homebuyers can rest a little easier knowing that interest rates will likely remain low for quite some time and that will make their mortgage decisions a little easier today.
To read the full article; click here:
Contact your Mortgage Broker today for more trusted advice